Strawberry Inch Loss
How does it work?
So how does it work? It's a simple 7-step process which can reduce inches off target areas:
Complete a consultation form/medical questionnaire; target areas are measured;
Up to 60 diode laser paddles are attached to a strap and placed on the fatty areas.
Two smaller Probe lasers are placed over lymphatic glands and held in place by underwear.
The Laser Lipo will then be switched on for 10 minutes and then relocated to another area if required.
The treated area will be measured to assess inch loss achieved and depending on the client, results are expected to be between 0.5 and 3 inches.
Follow our recommended Nutrition plan for better results.
Cell Breakdown
The breaking down of the fat cells starts when the laser penetrates the skin and makes contact with the fat cells. Pores form on the cells causing them to 'sweat'. The water, Glycerol and free fatty acids emerge from the cells and then occupy the space beneath the fatty layer in the skin. The fat cell is therefore reduced in size.
Lymphatic Drainage
The fat cells reduce in size and the lymphatic system then removes the fatty liquids through the venous system, where they are processed in the same way as fatty foods that are digested. Not only is the procedure quick, safe and pain-free, it is also healthy.
After Care
After Care advice encourages clients to follow a sensible health and exercise routine. The Strawberry Laser  procedure does not harm the body in any way and will still maintain its ability to store fat in the areas where the work has been carried out. This is an important health factor as it prevents the fat being stored in different parts such as around the heart or other vital organs. If clients eat sensibly and regularly, combined with exercise, the body shape will retain the effects of the treatment.
Treatment Areas
Stomach
Hips
Thighs
Upper Back Fat
Lower Back Fat
Arms (under biceps)
Baby bulge
Above knee areas
Ankles
Male breasts
Before & After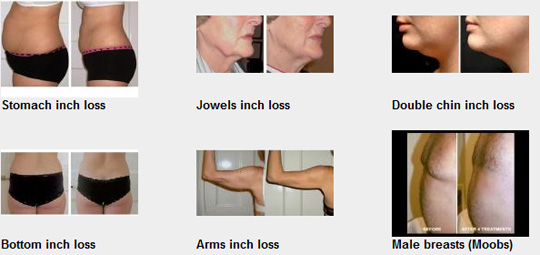 Testimonials


"I'm a converted cynic. This is amazing and I haven't put the inches back, despite doing no exercise."
RED magazine - 9th September 2009

"I'd lost half a CM off the flabbiest bit and my skin felt lots tighter. A few days later, my skin still felt super-taught and smooth and my upper arm was now 1cm smaller, I'll be booking more sessions ASAP."
Celebs magazine - 5th August 2009

"An hour later, I'm done. I'm delighted to discover both my arms are half an inch slimmer and after a second session; they shrink by a further half n inch each. Two weeks on and I still look like a tricep dip queen. I'm thrilled - Laser Lipo works."
ELLE magazine - 5th August 2009

"I was amazed by the results: after one session, I lost two inches off each thigh and three inches off my stomach. I can't wait to get into my Little Black Dress."
London Lite Newspaper - 13th May 2009

"Lazy girl's lipo" sit on a laser for half an hour and melt away your fat? Sounds a bit far fetched, right? Well the tape measure doesn't lie and we can confirm that you'll lose inches with Laser Lipo."
GRAZIA - 13th May 2009

"Two weeks ago, I felt sluggish, bloated and depressed. This treatment has not only given me my pre-Christmas figure back – it's given me my confidence back."
Suzi Dixon - Telegraph - 7th May 2009

"I'm a driving instructor, so I sit in the car for hours on end and rarely exercise. I had eight treatments and was amazed at the results. I've dropped two dress sizes to a 14 and lost 6.5in from my waist and 4in from my hips."
Sam O'Neil - 1st April 2009